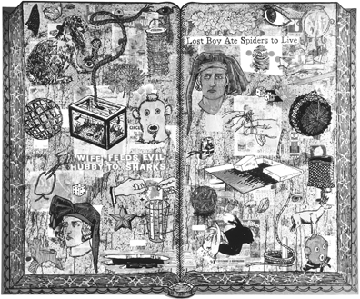 Jane Hammond Irregular Plural III,, 1995.
Oil and mixed media on canvas, 61 x 73 inches
Courtesy: Galerie Barbara Farber

When I first began these paintings, in 1988, I wanted something that was a surrogate for style. Something that was fixed in some respects and open in others and that wouldn't place visual limits on the work. So I took these found pieces of information and let myself use them in all different ways. It was a kind of language in that the bit components were inherited, not invented, and the expression came in the combinations and contexts and manipulations (literally, from the hand).

But, there are times when language is not inherited. You do invent language. With children. When you fall in love.

And painting is not a language where, typography nuts aside, a word on the page means the same whoever writes it. Perhaps computers are making language even more bodiless. As elastic and contingent as language is, it seems much more codifiable than painting, e.g., the dictionary. Painting is dirty, bodied, particular.

You can look through a word. A picture calls you to itself, and with all its imprecision, idiosyncrasy and stain, it can leave you somewhere else.
---
Jane Hammond was born in 1950. She is an artist who resides in New York City.