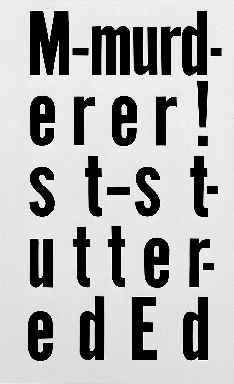 Kay Rosen Sp-spit it Out, from the Ed Paintings, 1988.
Enamel sign paint on canvas. 30 x 22 inches.

Language has accounted for the image, the subject and the source of my work for a long time. An academic background in comparative linguistics, applied linguistics, and Spanish and French provided a rigorous method and discipline for scrutinizing the smallest mechanisms by which language operates and for dissecting and analyzing almost invisible components of language. But academia did not furnish a sympathetic framework or audience for investigating and presenting alternative ideas about language which came from digging around in it and excavating unorthodox and previously unnoticed sub-systems which operate independently of authorized rules. Because many of the incidental and unintentional linguistic 'events' which interested me were most effectively revealed and understood through seeing and reading, rather than through speaking and hearing, it became useful for my purposes to present information visually: through painting, drawing or the visual page. Grammar and the visual strategies of typography and layout are critical to interpretation, but improper academic issues. They can contribute significantly to the way that information is received and processed, as can such formal properties of art as color, surface, composition and scale. These visual concerns may not have much to do with linguistic structure, but they are capable of structuring and affecting meaning. They function as much like signs and directives for reading and interpretation as do phonemes. Because my interests did not comply with all of the requirements and expectations of a formal academic linguistic system, my work found a way to combine the paradigm of the classroom and the research lab with that of the studio through short concise verbal constructions which were painted, drawn, and printed and which drew their inspiration from a vast number of cultural, personal and historical sources, including language itself. In the abbreviated micro space of the art work, language hopes to exceed and outperform its normal representational function and its obligation to be processed through the intentional and subjective consciousness of an author/speaker. Through the deployment of strategies which have as much to do with design, advertising, fine art, and stand-up comedy, as with linguistics, language is capable of doing very surprising things which it didn't know it could do.
---
Kay Rosen is an artist who was born in Corpus Christi, Texas, and who lives most of the time in Gary, Indiana. She teaches at the School of the Art Institute of Chicago and exhibits nationally and internationally.