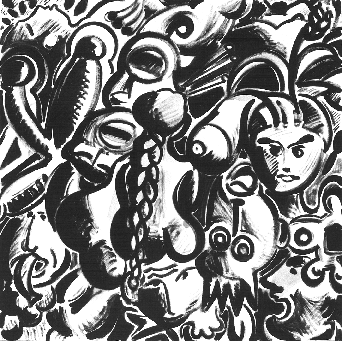 Lucio Pozzi The Up and Down Braid, 1996.
Oil on canvas, 36 x 36 inches

Rather than lamenting the end of civilization and projecting my attention towards a utopian future or a nostalgic past, my response to the fragmentation and discontinuity of my culture is to be in the present moment as much as I can. This implies an understanding of myself and of the circumstances around me. Art has become for me a good way to do this because I feel it as an activity without specific goals. In my practice, art happens in a sequence of now and now and now. It does not happen in the fulfilling of any program. The field of visuality fascinates me most. In it I put together ideas, materials and processes that let my mind generate results I can not foresee.

So as to be in the present, I wish to re-visualize the visual arts and to separate them from the word. This is not to say that the word is ineffective in the realm of visuality. On the contrary, not only can the spoken or written word be a material for visual art but if visuality becomes re-instituted in its own the word also becomes more itself. They share the culture and do not depend on one another in forming it.

The invention of art, in my bias, does not presuppose explanations, while, on the other hand, interpretations of it dialogue with the art as creative acts in their own right. I hope that interpretations of art are always to a degree besides the point, i.e., so intensely within themselves that they correspond with the art more than they respond to it.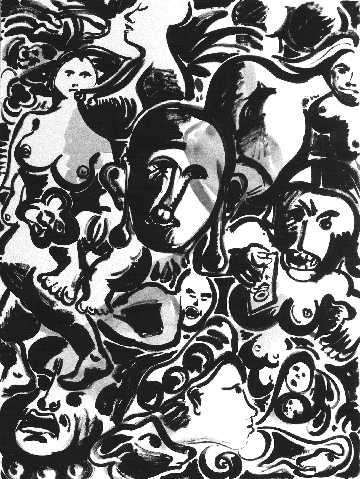 Lucio Pozzi Wife Handi Man, 1996.
Oil on canvas, 48 x 36 inches

I deal a lot with words, especially in my Word Works (to be distinguished from my Paint Works, Photo Works, Action Works, Installation Works and others). The Word Works are works of art in which I concern myself with the great shifting power of words. In them, I imitate the structures of my paintings and enjoy games of translation and substitution.

An example of my early experience in words took place when I translated the twin panels of the Level Group paintings into the book Five Stories, originally published by John Weber, New York, in 1974. (It is going to be written in all the languages of the world and has already been published in German, Italian, Spanish, Swedish, French, Japanese.) The Level Group consisted of small canvases mounted on wood, painted in dark gray paint and coupled next to each other, like open pages of a book, on a wall. Five Stories contains ten stories. The five on the left are horrible; the five on the right are wonderful.

Other Word Works are, for instance, the speeches I deliver in the imaginary gibberish my little brother named Patchameena when we were kids. Like the chromemes of painting, the recognizability of phonemes varies infinitely.

I see my art as a weaving web of interconnected but independent specific universes. The web's end is unknown. Words are in some of these universes and in some others they are not.
---
Lucio Pozzi is a painter living in New York.